I've been lacking inspiration lately, so I'm just going to give a rundown of the events of my past few days, so as to keep this thing alive:
On Sunday, I had plans to go to the Unitarian church. At the last minute (ie. fifteen minutes before we went out the door) I freaked out that I hadn't called in advance to find out more about their infant care that they state exists, on the website. Having never left my son in any kind of public childcare before, not even at teh gym, I was convinced that this was a valid reason not to go. My bad. So, all dressed up and with nowhere to go, we decided instead to take a trip to the Bata Shoe Museum. Mike wanted to go to the Art Gallery of Ontario, since we have a membership that was lovingly gifted as a babyshower gift almost one year ago, but we go there SO much and I'm very tired of their permanent collection. So the Shoe Museum it was!
We saw the permanent collection, which was fun, and then went up to see the chopines. Chopines, for those of you who aren't bizarro historical fashion freaks like myself, are the original platform shoe. They were popular in 16th C Italy and Spain especially, and most of the examples were from there. The Italian chopines were simple, some towering almost three feet high, and the soles were in the shape of flowers so that each step made a little flower pattern in the earth. Leave it to the Italians to turn shoes into poetry. Interesting the way women's feet are frequently referred to in terms of flowers. I'm thinking particularly of the lotus feet (bound feet) of chinese women during the turn of the century.
The shoes themselves were mostly pale leather with flowery cutouts. The Spanish chopines were of equal height, averaging, I would say, around one and a half feet, but much more richly decorated with velvet brocades. These tall shoes were a way for women to have longer, more elaborate skirts to show off. Men attempted to keep up, but mostly they wanted to be able to walk, so their shoes were more reasonably sized.
This exibit was exciting for me because A. It was my first chance to see any antiquated textiles, and B. It is my first foray into the world of historical footwear. Usually I've interested myself in what one can see, such as skirts, bodices and tunics, or what shapes the garment, like underwear. I basically overlooked footwear. I think that I will probably blame this on the fact that as a tall woman, beyond six feet tall, with what I shall call a 'generous' shoe size, I have avoided loving shoes. Isn't that sad? Because I know most shoes won't fit me anyway, I avoid following the trends, picturing them on my foot, or coveting them in magazines. There is something very stifling about shopping based on your size, as opposed to based on your preference. You could give me a room full of shoes in my size and it just wouldn't be the same as picking something out of some random magazine, tracking it down and buying it. That's probably why I love purses so much.
Turns out, it's a very important part of historical fashion. And since most historical fashion wouldn't fit me anyway, and my interest in it is about dressing
other
people anyway, I might as well start taking notice.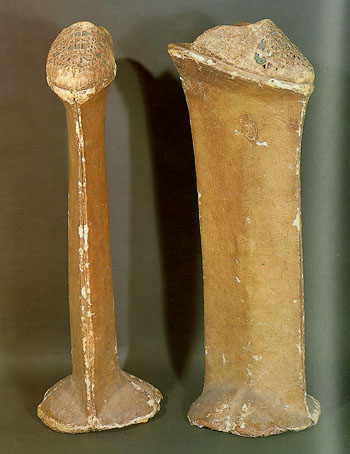 Pair of Venetian Chopines we saw at the
Shoe Museum, with flower petal soles.
So then, on Monday, we went back to the daily grind of whatever it is we do. Then Mike had a dentist appointment today. Life is comfortably boring.
Oh, and my stupid alma mater seems to be screwing around with my transcripts AGAIN. I seriously can't get a break with these people. Sent them my transcript request on the 10th of February and the charge hasn't come off my credit card yet. I tried to call them on Friday, and it was some concocted holiday. Then again on Monday, and they had above average call volume so they just...wait for it...hung up on me! Same today. I hope I can actually talk to someone soon, because this is driving me nuts!